Aaaaahhh.....June 1st. I don't know why but June 1st always sounds so nice. Like a mid-year refresh or something.
Element:
Air
Quality:
Mutable
Color:
Light-Green, Yellow
Day:
Wednesday
Ruler:
Mercury
Greatest Overall Compatibility:
Sagittarius
,
Aquarius
Lucky Numbers:
5, 7, 14, 23
Date range:
May 21 - June 20
Gemini traits
Strengths: Gentle, affectionate, curious, adaptable, ability to learn quickly and exchange ideas
Weaknesses:
Nervous, inconsistent, indecisive
Gemini likes:
Music, books, magazines, chats with nearly anyone, short trips around the town
Gemini dislikes:
Being alone, being confined, repetition and routine
Expressive and quick-witted, Gemini represents two different personalities in one and you will never be sure which one you will face. They are sociable, communicative and ready for fun, with a tendency to suddenly get serious, thoughtful and restless. They are fascinated with the world itself, extremely curious, with a constant feeling that there is not enough time to experience everything they want to see.
The sign of Gemini belongs to the
element of Air
, accompanying
Libra
and
Aquarius
, and this connects it to all aspects of the mind. It is ruled by
Mercury
, the planet that represents communication, writing, and movement. People born under this Sun sign often have a feeling that their other half is missing, so they are forever seeking new friends, mentors, colleagues and people to talk to.
Gemini's changeable and open mind makes them excellent artists, especially writers and journalists, and their skills and flexibility make them shine in
trade, driving and team sports.
This is a versatile, inquisitive, fun loving sign, born with a wish to experience everything there is out there, in the world. This makes their character inspiring, and never boring.
Gemini - the Caring Twins
There is so much childish innocence in the nature of Gemini, telling their tale of brotherhood, love between best friends and relatives who are entirely different by character, circumstances, physical appearance or upbringing. They are in this world to mend differences and make them feel right, ready to give their life for a brother or a friend. Gemini Love and Sex Fun and always ready for an intellectual challenge, Gemini sees love first through communication and verbal contact, and find it as important as physical contact with their partner. When these two combine, obstacles all seem to fade. Inquisitive and always ready to flirt, a Gemini could spend a lot of time with different lovers until they find the right one who is able to match their intellect and energy. They need excitement, variety and passion, and when they find the right person, a lover, a friend and someone to talk to combined into one, they will be faithful and determined to always treasure their heart.
Juno's Month
June is the sixth month of the year in the Gregorian calendar and its predecessor, the
Julian calendar
. It is believed that the month is named after the Roman goddess Juno, who is the wife of Jupiter and is also equivalent to the Greek goddess Hera. Another belief is that the month's name comes from the Latin work
iuniores
which means "younger ones".
Old English - Junius
Latin name - Junius mensis - Month of Juno
Old French - Juin
History of June
June was originally the fourth month of the year in the
Roman calendar
and consisted of 30 days. It became the fifth month with a length of 29 days when Numa reformed the Roman calendar. During the Julian reform, June was given a length of 30 days again.
Sixth Month in the Year
June is the sixth month of the year in the Julian and Gregorian calendar and is 30 days long. It is the month that has the most amount of daylight hours of the year in the Northern Hemisphere and shortest amount of daylight hours in the Southern hemisphere.
Many celebrations take place in the month of June, especially marriages. According to one etymology, June is named after the Roman goddess Juno who is the goddess of marriage and a married couple's household. It is considered good luck to get married in this month.
June and May are the only two months that doesn't start on the same day of the week as any other month. June ends on the same day of the week as March every year.
Birth Flower and Stone
June's birth flower is the rose or the honeysuckle.
The birthstones for June are the pearl, the moonstone, and the Alexandrite which all symbolize health and longevity.
The wild strawberries that start to ripen during early summer gave name to the Full Moon in June. Other names are Rose Moon, Hot Moon, and Mead Moon.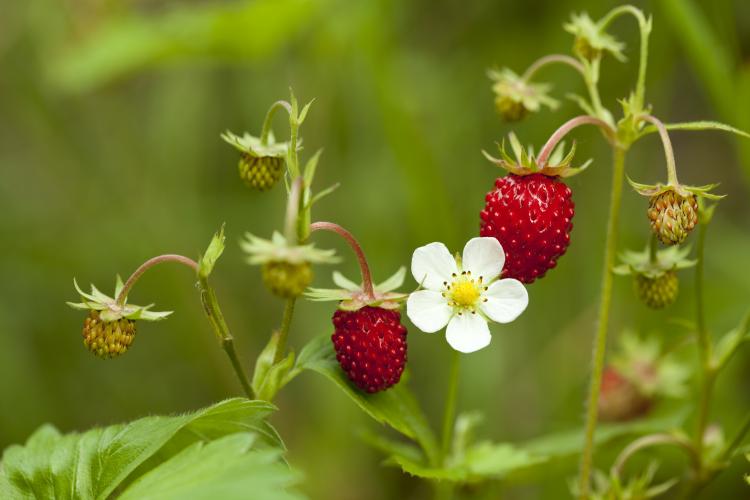 In ancient times, it was common to track the changing
seasons
by following the
lunar month
rather than the
solar year
, which the
12 months
in our
modern calendar
are based on.
For millennia, people across Europe, as well as Native American tribes, named the months after features they associated with the Northern Hemisphere seasons, and many of these names are very similar or identical.
Full Moon Names
Today, we use many of these ancient month names as
Full Moon names
. A common explanation is that Colonial Americans adopted many of the Native American names and incorporated them into the modern calendar.
However, it seems that it is a combination of Native American, Anglo-Saxon, and Germanic month names which gave birth to the names commonly used for the
Full Moon
today.
Some years
have 13 Full Moons, which makes one of them a
Blue Moon
, as it doesn't quite fit in with the traditional Full Moon naming system. However, this is not the only definition of a Blue Moon.
Wild Strawberries
June
's Full Moon is named after the wild strawberries that start to ripen during this month. According to some sources, a European name for this early summer month was Rose Moon, and another was Hot Moon, for the beginning of the summer heat. Other sources quote Mead Moon as the Anglo-Saxon name because this was the time for mowing the meads, or meadows.
There are several different kinds of wild strawberries. The native North American type is the
Virginia strawberry (Fragaria virginiana)
, also known as
Mountain strawberry
or
Common strawberry
. It grows naturally in the United States, including Alaska, and Canada. It has also been exported; one popular variety, which was imported to Great Britain in the early 1900s, is called
Little Scarlet
.
It was an accidental cross of
Fragaria virginiana
and the South American
Fragaria chiloensis
, also know as
Sand or Beach strawberry
, with larger fruit, which resulted in the modern strawberry grown commercially and in gardens, the
Fragaria ananassa
.
Europe has its own native wild strawberry; the Alpine strawberry (
Fragaria vesca
), also called
European strawberry
,
Woodland strawberry
, or
fraisier des bois
.
Close to Summer Solstice
Around every 20 years, the Strawberry Moon coincides with the
summer solstice
, which is either on June 20, 21, or 22.
So, get outside, enjoy the strawberries, maybe go to a wedding and wish some Gemini's a Happy Birthday!